Palavela, formerly known as Palazzo delle Mostre and Palazzo a Vela is a 130 metros diameter indoor arena located in Turin, Italy, on the bank of the River Po.
It was designed by engineer Franco Levi and architects Annibale and Giorgio Rigotti for Italia 1961 Expo and redesigned by architect Gae Aulenti for the 2006 Winter Olympics.
It hosted the 2010 World Figure Skating Championships and the 2019 ISU Grand Prix Figure Skating Final.
The Palavela was featured in the 1969 film The Italian Job. In a famous scene in the film, three Minis are seen driving onto and over the arena's distinctive roof.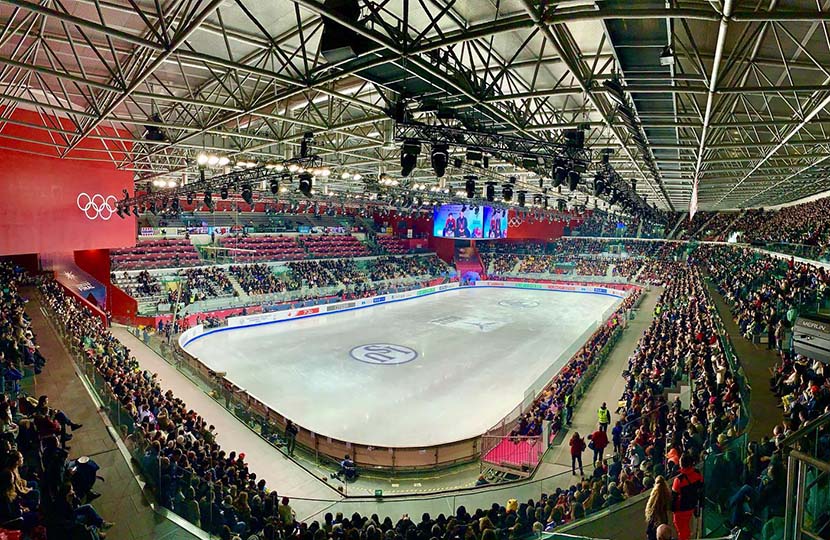 HOW TO GET TO PALAVELA
Palavela is located in a strategic point of Turin, at the southern entrance of the city, overlooking Corso Unità d'Italia.
Accessibility is guaranteed through the South Ring Road, from Turin-Savona highway, as for Turin-Milan, Turin-Piacenza and Turin-Aosta ones.
The Palavela public entrance are located both on via Ventimiglia 145, and on the front square facing the north entrance gate (VIP grand stand and north sectors), where the ticket office is also located.
To get to the Palavela by public transport, we recommend
UNDERGROUND TRAINS: the venue is directly connected with underground line 1 Fermi-Lingotto, Lingotto stop. From the Lingotto station bus line 18.
CONNECTIONS FROM THE MAIN RAILWAY STATIONS
From Lingotto station: bus line number 74 and 18.
From Porta Nuova station: bus line number 24 and 67; underground line M1 to Carducci stop + bus line number 45.
From Port Susa station: bus line number 101 or Underground line M1 to Carducci stop + bus line number 45.
Click here for more city connections info
PARKING
The Palavela faces a large municipal parking with over 600 parking spaces.
DISTANCES FROM MAJOR INTEREST SPOTS
From Turin Caselle Airport: 48,8 km.
From Turin Porta Nuova railway station: 5 km.
From Turin Porta Susa railway station: 7,6 km.
From San Carlo square: 6,9 km.